3Cs of Digital Transformation in B2B Marketing: Culture, Customer Success and Consumer Experience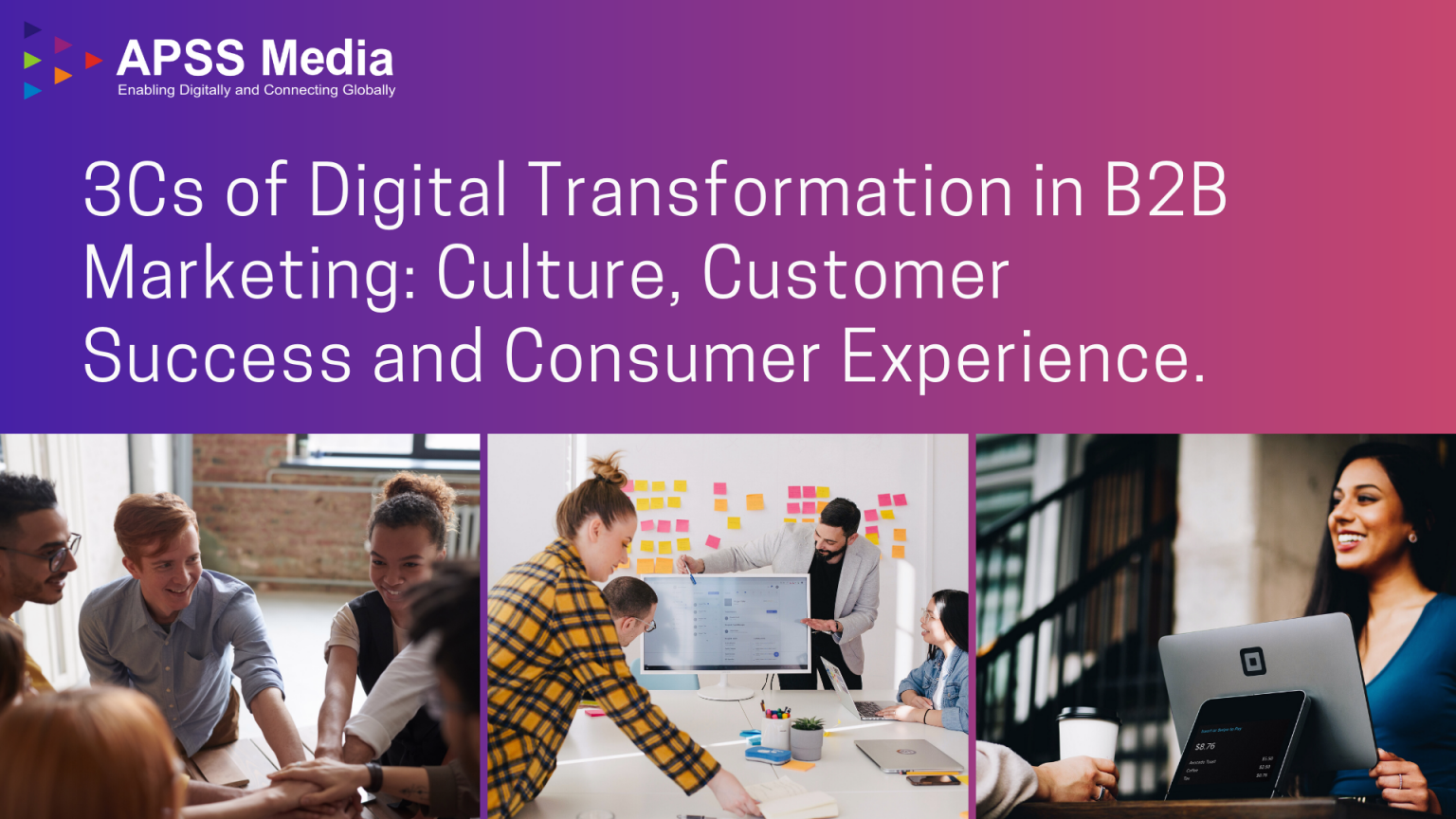 Digital transformation at a glance:
There is a well-circulated cartoon in the business world:
Context: A boss who is telling co-workers that, 'we don't have to worry about Digital Transformation 'hype'. It is years away!!' completely unaware of the challenges COVID-19 is about to bring in operations.
Look at the faces of employees seating just opposite the manager and his opinion. Hilarious!!
We have to agree that COVID-19 somehow succeeded to change the perspective of businesses. Six months ago many companies were sceptical to adopt digital transformation which today rushing off to buy all possible digital transformation solutions.
Covid-19 pushed businesses to transform digitally. Slack, the team collaboration software, said that it added 9000 new customers and saw 80% increase in customer base between 1 Feb to March 25 compare to the previous quarter. Not mentioning the mega success of video conferencing platform ZOOM which saw it stocks up 120% for these years.
Let us bring some IT spend statistic:
44% of businesses plan to increase tech spending in 2020, up from 38% in 2019.
One in four enterprises (1,000+ employees) are increasing in 2020 IT spend due to a recent security incident.
Business adoption of AI-powered technologies is expected to triple by 2021, while the adoption of edge computing is expected to double.
Two-thirds of large enterprises(5,000+ employees) plan to deploy 5G technology by 2021.
Source - The 2020 State of IT (The annual report on budgets and trends)
The large part of IT spending still goes to improve operations. Marketing is no different space. It is observed that marketing companies are about to spend more on IT infrastructure than those of IT player. The share of IT spend is increasing in B2B Marketing and this is a piece of good news for one who looks forward digital transformation within their organisation. A recent survey by b2bmarketing.net stated that:
14% have a separate budget for marketing technology.
47% said a portion of the overall marketing budget is allocated to martech.
7% said the budget sits with the IT department.
23% said it depends on a project.
Marketers are serious about adopting new solutions to improve operations and help customer success and that's why martech solutions are on the rise and giving a hard battel to sales-dominated SaaS sector.
But adding effective solution slack and zoom in your tech stack means you have adapted digital transformation? Today it is largely believed that increasing IT purchase budget and buying some cool integration and collaboration software means adapting Digital transformation. This is just half the story told.
What is Digital transformation?
Blake Morgan stated, "Simply put, B2B digital transformation involves using digital solutions to streamline processes and improve the customer experience."
Digital transformation is not all about operations:
Digital transformation should be customer-centric. We understand, you have heard this line in your last VC on adapting Digital transformation or have watched in webinars on the same, but let us repeat the same truth, Digital transformation is not all about the transformation in your day to day operation but a transformation in the way customer succeeds.
When we all were facing the pandemic together, we proved that it is people who drive the growth. The good thing about the challenge is it made us human-centric again - and so forced us to focus on straightening company's digital infrastructure and how people use it. The part of technology is making people better, helping the customer succeed at is true with the digital transformation.
The three C are:
Culture.
Customer Sucess.
Customer Experience.
The state of demand growth and Martech:
What does Digital transformation mean for B2B Marketing?
"Digital marketing focuses on one thing and that is bringing growth to a customer through demand generation. Everything comes between such as collaborations of partners, operation efficiency, data processing and other martech solutions support the one mission that is driving growth."
B2B partners and people need a frictionless collaboration. It is on-demand since the rise of the digital era. Digital enablement has made us more collaborated yet distracted. We are sharing data with each other more than ever. A report from IBM said that data exchange as a service is being leveraged by more than 50% of the organisation around the world.
When it comes to a marketing operation, almost every participant exchange a significant amount of data with each other. In day to day operation, it is overwhelming to process, store and analysis data and nurture relationships.
Martech solutions have been transforming the way B2B partners collaborate and work together. The B2B Marketing space is already digitally transformed, the challenge of B2B Marketers is to sophisticate the current Digital infrastructure and solution to push the operation efficiency to the next level.
What makes digital integration and transformation improve B2B Ecosystem?
Visibility: The clear visibility of campaigns and spend empower marketers to make better decisions. The visibility enables partners to ensure clarity in the program and focus on the most important task that is conversion.
Creative approvals: The important aspect of marketing is timing. The speed integration platform gives to the approval operations is revolutionary. It cut the time spent on manual creative approvals, eliminate waiting list and keep all publishing partners in a loop to deliver the right content to the right audience.
Storage and Security: Marketers handle data, a lot of data. The storage and security of data have been the top concern of marketers. Digital integration enables data to move on the cloud for better management and access. Digital enablement helps the publisher to check data compliances and deliver more efficiently. Also, edge computing is offering a new possibility to manage and process data in no time.
Reach/global network: Along with a speed a strong digital infrastructure offers to scale the operations. Marketers can scale the reach with marketing automation platform without hurting the personalised touch.
Unifying operations: Martech is helping to unify all funnel operations from all departments. For lead management and budget allocation - it is helpful to see integrations of different departments for one mission.
Leveraging digital transformation with 3Cs:
Digital transformation should be driven by culture and focused on customer success. The 3Cs of leveraging digital transformation is culture, customer success and consumer experience.
1. Culture:
People are the most important asset of any organisation. The right digital transformation empowers people to be more productive. It allows them to be free from micro-management and inspires to do better.
A digital transformation should be people inclusive and integrate teams or departments toward one common goal. The productive people tend to be happier or vice versa, a right digital adaptation helps the organisation to improve both.
While adapting to digital changes in the organisation, the leaders should consider the growth of its people with the digital infrastructure. The training also should be available to everyone who wants to contribute to the growth of an organisation.
How Digital transformation helps people?
Training: Most of the marketers use digital tools and solutions to train their people to be better marketers and innovators. A good marketer is creative and well disciplined. The creativeness and discipline could be pushed into culture giving them access to new technologies and tools. The data security is a top concern in marketers. Enabling new technology changes, marketers could be trained at scale to handle and process the data following all regional compliances.

Collaborating:

Communication makes things possible. If your teams are not communicating enough it is time to revisit the culture strategy. Digital transformation enables team players to be in touch and work together in a better way.

Achieving:

A well trained and collaborated team tend to achieve more. It is seen that the adaptation of digital solutions helps marketers to increase the overall ROI.
2. Customer success:
At every touch-point, at every content delivery, at every communication with the prospects, marketers are ensuring the customer success of the brands. For brands - the demand matters and for marketers the success of the brand.
Adaptation to digital solutions helps marketers to focus on demand growth as well as the success of its customer (clients).
The supply should greater than the demand.
Martech solutions help marketers to be more productive and creative. Marketing automation helps marketers to the target audience at scale while a platform like Demand Integrate helps to manage campaign lifecycle management.
The bottom-line result of Martech solutions has always been driving demand at scale and make the pipeline accelerate with high-value leads. This leads marketers to drive demand quickly and effectively, resulting in supplying leads quite higher than the original demand.
3. Consumer experience:
Today marketing is an experience-driven. The audience is more focused on digital experience more than ever.
Consumers are tech-savvy and buy solution online. An average consumer completes it's 70% of the buyer journey digitally. In B2B the decisions are influenced by the digital content experience. With growing digital solutions, it is less difficult to customise the buyer experience.
(Please note the consumer team is used as leads here.)
The following factors matters in consumer experience:
Personalization: Content personalisation on the scale helps marketers to engage multiple prospects in the pipeline. The right personalisation and speed of delivery push the leads forward in pipeline helping increasing pipeline velocity. Digital transformation support this operation and help increase the content consumption and interaction experience.
Support and help:

Consumers need solutions in real-time. Customer support and help is a crucial part to consider while adopting a digital transformation. How real-time you solve the customer problems improve your relationships with the consumers. The rapport helps ignite the advocacy program and put the marketing of a brand on auto-pilot with the help of consumers.

The digital infrastructure should be leveraged to solve the post and pre-sales consumer queries.
Conclusion:
Digital transformation has the potential to revolutionize the way marketers do marketing, the way team collaborates and the way they solve a client and consumer queries. Ultimately, Digital Transformation helps customer succeed, be people productive and increase ROI.
Leaving you with a quote:
Steve Jobs once said -
"Technology is nothing. What's important is that you have a faith in people, that they're basically good and smart, and if you give them tools, they'll do wonderful things with them."