How to achieve demand Growth by Building a relationship?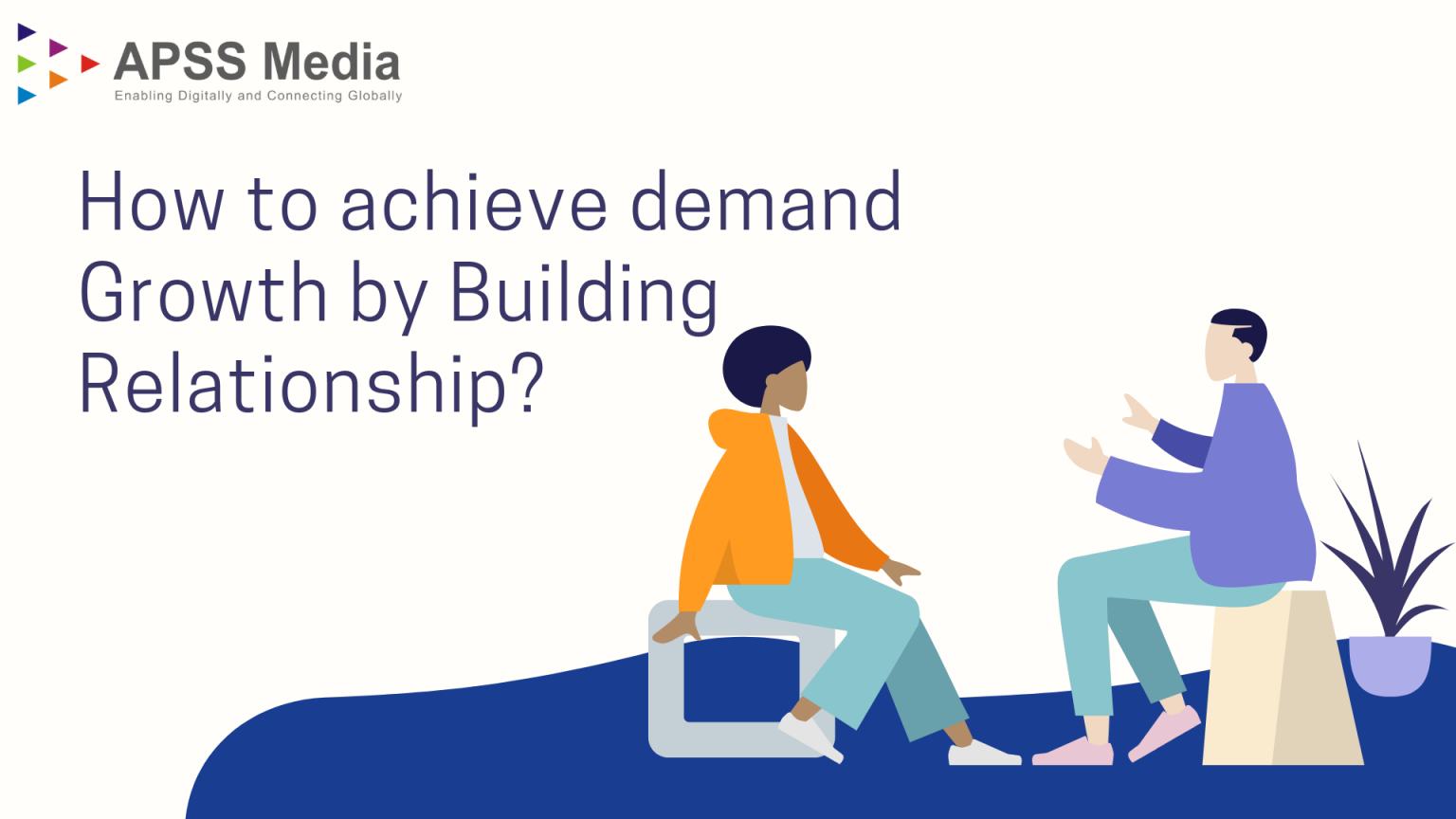 People buy from the brand because they trust it. This fact cannot be different for B2B brand as well. Our relationship with a brand is crucial in our purchase decision process.
Every buyer goes from the awareness, engagement, consideration, intent, and conversion stage. This does not happen overnight; we have to build a relationship with a buyer for a long time.
B2B Demand growth helps B2B brands to develop the required relationship with its buyer. For a long time, the demand growth approach was outward-focused but with the rise of the internet, it becomes inbound - as 70% of the buyer's journey takes place digitally on their own.
This change also brought sales and marketing together and we saw the must needed alignment between these two departments. Now, most of the brand chooses ABM as its primary growth strategy, many still find the demand generation as the go-to strategy for growth. In this blog post, we will see how the B2B brand uses demand growth as a relationship-building formula with its buyer.
Takeaways:
Marketers who put relation-building at core performs better.
Marketing and sales alignment is important so product development and marketing alignment.
Brand awareness should not be the last goal behind content marketing.
Right insights enable marketers to know prospects, this factor can be crucial while building a relationship with them.
How to achieve demand Growth by Building a relationship?
1. Build a system for growth:
Today, growth is the responsibility of everyone who is involved in a brand.
Growth is just not a job of marketers and sales teams anymore; it is like teamwork.
Let's go to the first few steps of building a product.
Market insights are one of the most important steps while building a product and services. We know in advance that for whom we are going to build this solution. At least we get that insights and prediction that how would a product perform when it will be ready to sell to the pre-defined group of buyers.
Today predictive analysis and intent data are the most important part of marketing and sales and to some extent, we always have been using those insights early in the product development process.
Most of the time this pre-defined group of buyer converts as TAL for ABM campaigns. That's why it is necessary we involve marketing and salespeople with a product development team - in this 'growth system' almost everyone is an evangelist, and everyone can sell a product building a right relationship with a pre-defined group of buyers.
Product development - marketing-sales alignment:
We have been hearing marketing and sales alignments and why it is important. Marketing and sales alignment is inevitable for the growth, they are going hand in hand to achieve growth.
Ultimately marketing and sales want to close the deal and help a customer after sales - that is the high-level goal of both teams.
The product development team works the same way - to build a product that adds value to businesses and brands.
The point is for effective sales the product development team must be aligned to the marketing and sales team for growth. Businesses must leverage this relationship between teams to unfold the next chapter of growth.
2. Create content to convert:
"Content builds relationships. Relationships are built on trust. Trust drives revenue." - Andrew Davis
Well, we couldn't agree more with this quote. Content plays an important role in building relationships. Content is that bridge that connects buyers to the brands.
Content Marketing: A B2B growth factor.
Content helps the brand to be seen by customers. Content engage customers with the brand, content builds the reputation but the most important question is how Content pays back in term of business?
"Most use metrics to measure content performance, but fewer have KPIs or measure content marketing ROI."
This year's B2B Content Marketing report named as 2020 B2B Benchmarks, Budgets, and Trends - North America from Content Marketing Institute and MarketingProfs, and sponsored by Sitecore says that only 53% content marketer participates in revenue generation by content marketing - no surprise 86% use content marketing as the brand awareness tactic.
Still, most of the marketers use content to fill up the top of the funnel. They know content accelerates the demand growth but few strive to close those deals with the help of content. The sales team needs content and that content must be aligned to the marketing content to build a chorus in the funnel.
Moving down to funnel and just not limit content for ToFu many marketers use the content as a conversion tool, let's go back to the Key findings of that report:
The top performers in term of values say their efforts delivered success against efforts like:
Building subscribed audiences (45%)
Generating sales/revenue (53%)
Building loyalty with existing clients/customers (63%)
And there is one thing common between all successful achievers that they used relationships building at the core to have higher ROI with content marketing.
Now marketers need to jump the status quo and should create content for the conversations. The ultimate goal of content marketing should be conversion.
The goals behind content creation should be:
Building Subscriber list.
Generate Leads.
Sales support.
Customer support and loyalty.
3. Media must meet the intent:
Personalization makes content powerful. In any marketing campaign, from lead generation to ABM, and from email marketing to one to one event it is a personalization of content that engages the audience.
Right content > right channel > right people
We need to deliver the right content through the right channel to the right people. That's how personalization and timing play a big role in revenue generation. The personalization doesn't happen by chance but with the powerful intent. Personalization should always be based on insights.
What kind of insights?
Intent signals. Marketers have the tools and techniques using that they can know whether the buyer is ready to buy a product or it is just in the awareness stage. The insights can be found in-house or can be sourced from the third party.
Intent data cleverly used with predictive analytics help marketer to reach the right audience at the right time. As we move down to the funnel, prospect behaviour gets a little complicated to analyse.
The accounts which are in touch with your business can also be in touch with another one - and their online behaviour changes with the content they consume.
Intent data helps marketers and sales teams to create personalized content at scale in the required form so they could engage the account till the sales.
Shaping a relationship with insights:
If you have read Dale Carnegie's How to Win Friends and Influence People you know the rule to make people trust you - be interested than being interesting. Data enables us to know more about the prospect and connect with them naturally. Reminder - we are in business and that doesn't mean we can't be personal. Understand - business is just a group of people who is daring, creative, tech-savvy, you name it.
Our job is to connect with them at the right time that we could shape a relationship naturally. Intent data, predictive tools and actionable lead database help us to build the right content and experience for the right audience. The combined efforts of all build a right relationship with the prospect and account for the growth of your business.
---
This was our understanding of how building relationships can make a demand to grow. What do you think? Please share your views below.